Client lounge
Streamline Financial Planning and Wealth & Security Planners
You may have noticed that more of our communications are under the combined banner of both Streamline Financial Planning and Wealth & Security Planners. Long term clients would have received many notices over the years discussing the split of our business – way back in 2003! – which added the Streamline Financial Planning ("Streamline") services as a complement to the highly focused services and advice offered under the Wealth & Security Planners name. This split was an acknowledgement of the changes we expected to see in the world of financial planning – both in the types of services that would be available, and to the ways of paying for advice and services.
Wealth & Security Planners' focus was on personal advice and services, operating as a fee-based service. Streamline Financial Planning was oriented more towards advice and services on specific financial accounts such as insurance, investment and superannuation and usually operating on the basis of an ongoing commission or brokerage paid from those accounts to Streamline by the relevant institutions.
Over the years, some of the expected changes have taken place and we are now in a position where the services and advice offered under the two business names are becoming more and more similar. The directors of the owner of these two business names – WSP Pty Ltd – are now reconsidering the need for two business names. This is the reason we now have the one website for the two business names. This may change over the coming year but for the moment, this site is where we will post updates and general information.
Should you have any questions regarding our business or your accounts or the services we offer, please feel free to contact our advisers or staff.
In the meanwhile, we are pleased to announce that we are providing our long-term clients with access to an online portal – the Financial Knowledge Centre. It's full of information, videos, quizzes, tables, charts and articles on all things financial. We think you'll love it!
We are providing 6 months complimentary access – and you should by now (or shortly will) have received our email introducing the services to you, and providing login and password details.
We'd love feedback. Just look through the material and let us know what you like and what you don't like.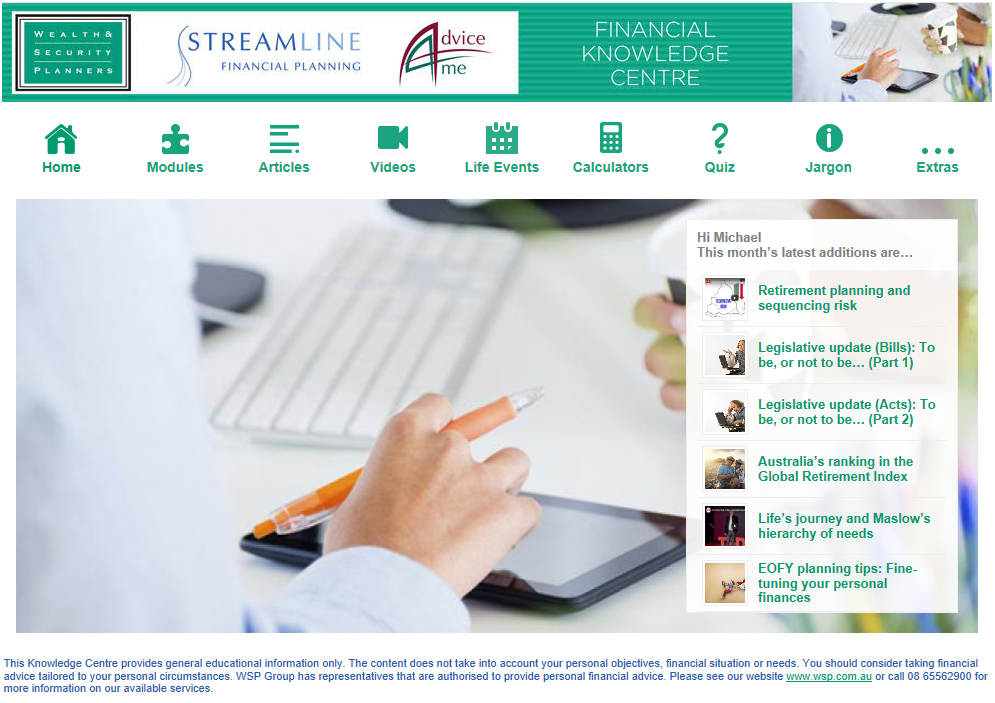 For personal financial advice tailored to your individual circumstances, simply call or email.